Influencer Marketing Case Studies That Built 7-Figure Brands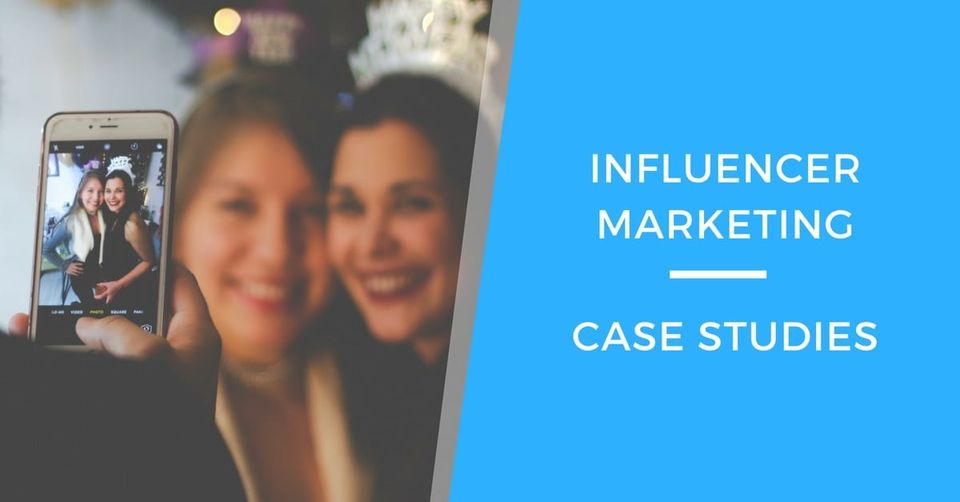 With so many ways to build a following today, the world is swimming with influencers.
As you'll see in the influencer marketing case studies below, some companies have found ways to successfully tap into influencers, building 7-figure brands in the process.
These are my notes from 3 interviews with ecommerce entrepreneurs and marketers who drove sales with influencer programs.
Case Study #1: How Blenders Eyewear connected with the right Instagram Influencers

Chase Fisher is the founder of Blenders Eyewear, a sunglasses brand that's grown into a 7-figure ecommerce store.
Target influencer platform
Instagram
Overall strategy
Build real relationships with influencers who are enthusiastic about your brand
PROCESS & TACTICS
Got interns to make a spreadsheet of potential influencers
Restricted contact only to influencers who were relevant: either they were aligned with the lifestyle Chase wanted to convey, or they had something that would give a halo effect to his brand
Began contact with a genuine compliment, then offered to send them sunglasses
Since the outreach was very personal, influencers were highly likely to post a photo of the product

Chase built relationships with many influencers over time, sending out more product or running promotions with them
Keys to success
Build genuine relationships. Influencers would come to Chase's office to hang out, and would come to be invested in the business

Chase deeply understood the platform and the social norms of the Instagram, spending hours and hours a day on the platform
Don't go after big fish. Go after micro-influencers —10k-20k followers — they're more likely to care and engage with you
Build momentum. Chase ran giveaways "back to back to back" because he knew how competitive and noisy Instagram can be
Tested different offers to see what would drive the most sales and website visits. Tried giveaways, contests, offering unique coupon codes
Here's Chase going into more detail about how he worked with influencers to promote his brand:
Case Study #2: How Luxola used data to find the right Blog Influencers

Simon Torring ran marketing at Luxola, an ecommerce cosmetics startup later acquired by LVMH.
Target influencer platform
Blogs
Overall strategy
Use scraped data from the web to inform which influencers to target

PROCESS & TACTICS
Collected 500–600 marketers in a Google Sheet
Created a script to rank influencers using scraped data: Similarweb rank, social shares on their content, size of social following, frequency of posting
Used data to calculate an "influencer score" for everyone
Contacted high-potential influencers and asked for price of doing sponsored content
Looked for best combo of influencer score, reach and price, then pitched a content collaboration

Keys to success
Be data driven, but don't view influencer relationships as transactional. Simon mentions that his best results came from true collaborations with influencers
Build relationships with up and comers; don't try to land Kendall Jenner; look for the next Kendall Jenners instead
Don't mass outreach. Simon used the data he had to hand-pick his targets and spent time crafting a good pitch
Simon goes into a lot of detail about how he ran his influencer marketing campaigns in this interview:
Case Study #3: Kettle & Fire used social media influencers like a paid marketing channel
Justin Mares is the founder of Kettle & Fire, a company that sells bone broth soup.

Target influencer platforms
Instagram, Pinterest, Blogs
Overall strategy
Approach influencer marketing like you would a performance marketing channel, closely monitoring Cost Per Acquisition and reach.
PROCESS & TACTICS
First, think about audience you want to reach; understand your target persona
Armed with audience insight, test different influencers across different interests your persona might have
For influencers on social platforms, offer to pay $30–50 for a temporary post that links to your profile page or has a unique coupon code. Since most of the impressions happen in the first few hours after hitting publish, tell the influencers they can take it down eventually
For blogging influencers: give them an affiliate program. Ask them for a review, then pay them for every sale they generated
Keys to success
Understand the impressions reach of one "post" from your target influencers and use that to inform how much you offer to pay
Talk to your customers to refine your target persona. Justin was talking with potential customers even before product was launched, which gave him high-resolution qualitative information he used to target later on
Go after influencers whose follower size is below 15k, which Justin describes as "still meaningful but not huge"
Check this video of Justin describing how he did this here (skip to 3:30)
CONCLUSION
As you can see, each of these 3 case studies had a lot in common.
Here are my top takeaways:
Keep your eye on some measurable outcome to gauge the performance of your influencer marketing efforts

Build genuine relationships to maximize benefit
Target micro-influencers: they give you the best bang for buck
You can take these principles and apply them to pretty much any platform. Youtube. Snapchat. Or whatever new social platform comes next!
If you know of any good influencer marketing case studies — let me know in the comments and I may add it to this post.